Bhagavan Sri Bala Sai Baba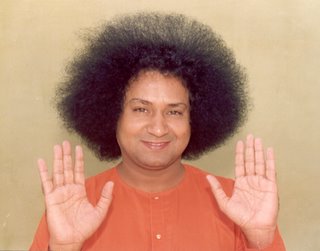 Bala Sai Baba
was born to Shri Kannanur Ramanadha Sastry and Smt. Jaya Lakshmamma, hail from a rich family of Brahmin Community of his town. Being a skilled Ayurvedic Doctor Dr. Ramanadha Sastry specialized himself in the curing of snakebites and healed many patients. Smt. Jaya Lakshmamma was a ideal wife with pious qualities to suit the principles of Shri Kannanur Ramanadha Sastry.
Bio
-
English
- "Sri Balasai Baba is admired in India as Avatar. Among them one understands the embodiment of the Goettlichen in human shape. Every time hate, force and destruction take over hand, God in people shape (like Jesus Christ) appears, in order humans, who are will to show the correct way. As Avatar Sri Balasai Baba of the world wants to serve and be for all sincerely searching friend, teacher and sound one. Sri Balasai Baba was born on 14 January 1960 in the southIndian Kurnool. Its birth was predicted by the large Indian holy Sri Ramana Maharshi."
Websites:
Wikipedia
SriBalaSaiBaba.Org
Sri BalaSaiBaba.Us
SriBalaSaiBaba.De
-
English
Sri BalaSaiBaba.Com
-
English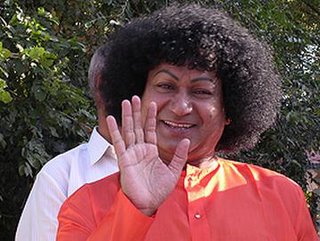 CNN Hoaxbusters
- "A
geisha-pale Indian with a Botox permasmile."

"
Bala Sai Baba has stolen from

Sai Baba

not just his name ... but also his look. He too wears orange robes and an absurd Afro. "


Dialog Center
- "Disillusioned by the scandals, many disciples have been turning away from Satya Sai Baba and to the 35 year-old Palghat (Kerala) born Bala Sai Baba.
Bala Sai claims to be the real Sai avatar.
He has set up an ashram in Kurnool district of Andhra Pradesh. He dresses like Satya Sai Baba, performs the same kind of 'miracles' and has been successful in attracting a large number of devotees. He too has western disciples."
Photo galleries:
One
-
Two
-
Three
Sathya Sai Hater?:
Yes.
Ashram in Kurnool:
Sri Bala Sai Nilayam
Kurnool 518001
A.P. India
Tel: 0091-8518-221332, fax: 0091-8518-220647
Ashram in Hyderabad:
Sri Bala Sai Nilayam
Domalaguda No. 1-2-593-8
Gagan Mahal Colony
Hyderabad 500029,
A.P. India
Tel: 0091-40-55 82 36 10, fax: 0091-40-27 61 62 80
Copyright © Sai Baba Exposed 2006.